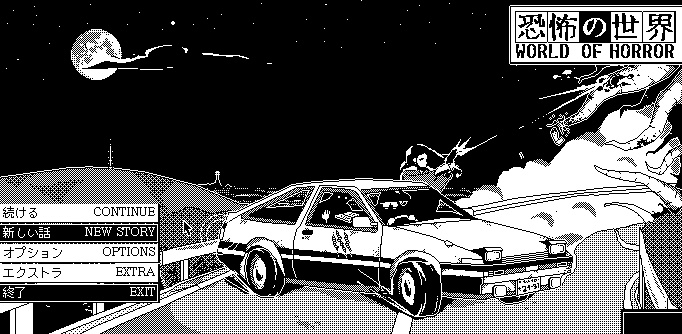 Panstasz and Ysbryd Games have announced that World of Horror, an "unsettling cosmic horror retro RPG", will be heading to Nintendo Switch in 2019.
In a small, seaside town of Japan, the population's sanity is dwindling and otherworldly, grotesque creatures have started to terrorise its inhabitants. Players must navigate this hellish, roguelite reality through turn-based combat and unforgiving choices. You can experiment with the events of any playthrough by building a deck of event cards, discovering different outcomes for your battles against the darkness. Different decks may even unlock new mysteries or clues.
The game features branching storylines with five playable characters available to brave the chaos, each with their own different perspective on the events that unfold. You'll need to unravel puzzles and mysteries through spells that sacrifice sanity, uncover disturbing and shocking clues, and diligently search every nook and cranny, scouring for helpful items that may come in handy.
Pawel Kozminski, founder of Panstasz, has said the following on the game's announcement:
"I set out to create something that illustrates just how vulnerable one's sanity can be. I want World of Horror to haunt players in a way that creates an uncomfortable sense of apprehension, something that slowly builds uneasiness and anxiety through atmosphere and the uncanny."
It certainly sounds like an intriguing one with its haunting chiptune and 1-bit art style; we'll make sure to keep an eye out for any further news on the game over the next few months.
Until then, why not share your initial impressions with us in the comments below?